Joseph Orr
Click on an Image to View More Information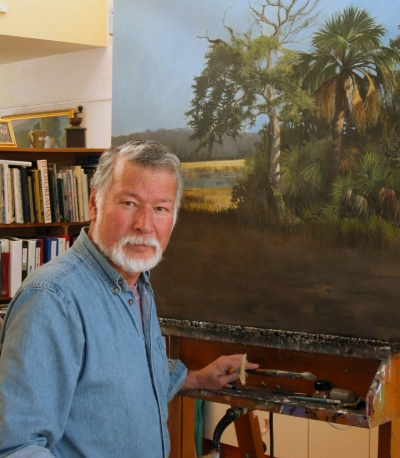 Joseph Orr paints the Landscape of America in his home state of Missouri and wherever he journeys. Travel and painting have been his passions from an early age, and he has successfully combined both for over 40 years. His love of the landscape requires the welcome study of atmospheric nuances as well as color and seasonal change. He enjoys sketching from life, on location year-round. For Orr, the love of putting paint to canvas in portraying a scene is both a challenge and an adventure, inviting the viewer to come along in the finished work. Grasping the acrylic medium early in his career, Orr is now recognized as one of its experts and has written material for several art instruction books and magazines while his paintings are among collections across the country, both private and public. Joseph Orr is one of the founders of the National Oil and Acrylic Painter's Society.
Honors
Who's Who in American Art – 1984 – Present
Founder, Past President, National Oil and Acrylic Painter's Society
Articles
"Joseph Orr: Using Acrylics, Outdoor and in the Studio" by Stephen Doherty, Workshop Magazine, Premiere Issue, 2005
"Survey of Acrylic Painting" Acrylic Highlights Magazine, 2004
"Wonderful Wanderlust" Art of the West Magazine, September/October 2003
"Our National Parks" Southwest Art Magazine, February 2003
"Nourishing Souls" Missouri Life Magazine, August/September 2000
"Art from the Parks" by Rachel Wolf, Northlight Books, 2000
"Joseph Orr" by Franz Brown, Southwest Art Magazine, April 1997
"Acrylic Painting Styles & Techniques" by Rachel Ruben Wolf, Northlight Books, 1997
"Lighting Your Way to Stronger Landscapes" The Artist's Magazine, January 1996
"Acrylic Painting Techniques" by E.E. Killeen, Northlight Books, 1995
Works in Museums and Public Collections
National Collegiate Athletic Association—Indianapolis, IN
Federal Reserve Bank—Kansas City, MO
MFA Oil Company—Columbia, MO
First American Title & Trust—Oklahoma City, OK
The Daily Oklahoman Newspapers—Oklahoma City, OK
Ella Carothers Dunnegan Museum/Gallery of Art—Bolivar, MO
State of Missouri Historical Society—Columbia, MO
Kansas City Southern Railway—Kansas City, MO
Please Note: All painting images on this website are copyrighted. Any reproduction is prohibited without the express permission of the artist.

Hours: Wednesday through Sunday 11am- 6pm or by Appointment. Mondays and Tuesdays by appointment.