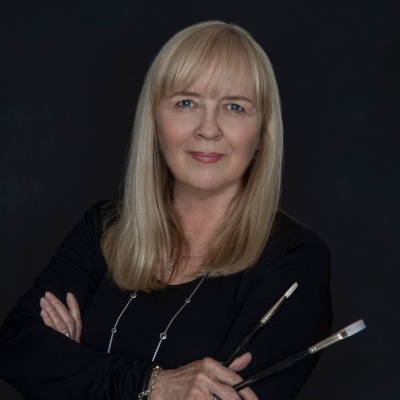 Lili Anne Laurin was born in Montreal, Canada. She began studying watercolor in her teens under well-known Montreal-area artist/teacher Helmut Gerth, AWS. Drawing and painting only from life, these five years of classical training included several painting excursions to Kennebunk Port, Ma. Lili was a member of the Montreal Arts Club and participated in many juried shows. She continued to explore other mediums such as oils, acrylic, and printmaking while studying for a BFA at Concordia University, Montreal. After moving to the United States, Lili continued to hone her art skills at the Arts Students League in New York City, along with attending workshops with top landscape and seascape artists.
Since moving to Arizona from New Jersey 4 years ago, Lili paints plein air often. "Nature has always been a powerful pull for me, and I feel most alive with my creative juices flowing when surrounded by the sights, sounds and scents of our beautiful world."
Over the years, Lili has studied various techniques and mediums with many accomplished artists such as Christina Debarry, Paul McCormack, Lee W. Hughes, Everett Raymond Kinstler, and Joseph Peller. Although she enjoys painting a variety of subjects she devotes most of her time to landscape and portrait painting in oils. She has appeared in International Artist Magazine and was published in 100 Ways to Paint Landscapes.
Memberships
Oil Painters of America
American Impressionists Society
American Women Artists
Women Artists of the West
Shows/Awards
Purchase Award, American Women Artists' National Exhibit, 2017
People's Choice Award, Cranford Paint Out, 2011
Jurors Top 50 Award, 2010
Honorable Mention, North Light Cover Contest
Salon International 2010, 2007
Best of Show, Somerset Art Association 2004
Museums