Paula B. Holtzclaw
Click on an Image to View More Information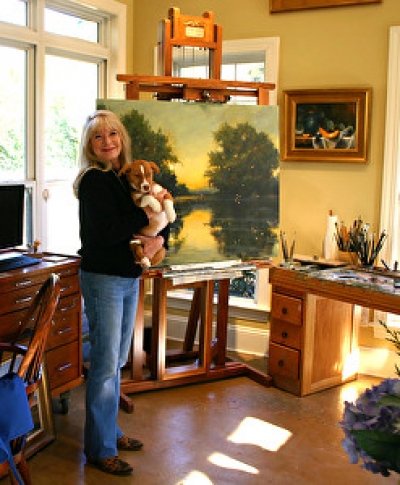 "I choose to paint what is beautiful and meaningful, knowing that this act of celebrating and communicating the beauty in this world has the power to uplift and inspire."
North Carolina artist Paula Holtzclaw has gained a national reputation for her ability to capture the drama of nature on canvas. Light-filled paintings of pristine, undeveloped landscapes are executed with a unique blend of classical realism and impressionism, while her still life paintings demonstrate a love of the Old Masters' works. Holtzclaw's paintings have been included in many national juried and museum exhibitions. Museum venues include the Haggin Museum, Gilcrease Museum, Booth Western Art Museum, Muscarelle Museum of Art, the Tucson Desert Museum, and the Arizona Sonora Desert Museum.
Select Awards
President's Award and Third Place Master's Division Award at the Women Artists of the West 51st National Exhibit, 2021
Third Place - Master's Division, Women Artists of the West National 2020
Award of Excellence, American Women Artists National 2019
Third Place - Master's Division, Women Artists of the West National 2019
The F & M Bank Purchase Award, American Women Artists National 2018
First Place, Nautical Show, Salmagundi Club, New York, NY, 2017
Best Landscape, National Oil and Acrylic Painter's Society, 2016
Best in Show, Women Painters of the Southeast Exhibition, 2015
Recent Publications
Feature Article in Southwest Art, November, 2020
Feature Article in Art of the West, April, 2019
Feature Article in Fine Art Connoisseur, January, 2019
Memberships
Master Member, American Women Artists
Signature Member, Plein Air Artists of Colorado (PAAC)
California Art Club
Signature Member, American Impressionists Society (AIS)
Plein-Air Painters of the SouthEast (Pap-se)
Signature Member, The American Society of Marine Artists
Signature Member, The National Oil and Acrylic Painters Society
Master Member, WAOW (Women Artists of the West)
Signature Member, Oil Painters of America
Please Note: All painting images on this website are copyrighted. Any reproduction is prohibited without the express permission of the artist.

Hours: Wednesday through Sunday 11am- 6pm or by Appointment. Mondays and Tuesdays by appointment.